Ford Cortina Mark V (Mk5)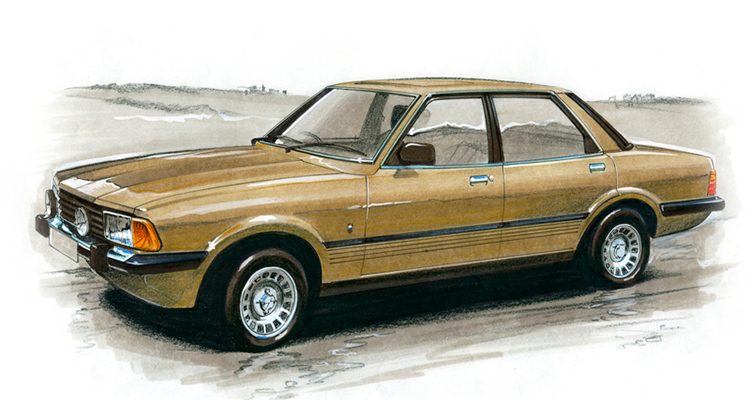 On August 24, 1979, Ford Cortina Mark 5 was announced. Actually, its official name was "Cortina 80", but the press alone with the public gave it the Mark V tag.
It was a large update of the Mark IV model, though it is hard to say that it was a complete redody or facelift. Actually, it was a step made between these two. Among the main differences between these two cars was revised headlights, a wider slatted grille, and, of course, a flattened roof with a huge glass area, slimmer C-pillars with revised vent covers, larger, slatted taillights, and upgraded trim. Improvements were made to engine range, with a slight touch to fuel economy and power output.
There were four variants of Ford Cortina Mk5 body available in both saloon and estate forms: the Base, L, GL, and Ghia. The base and L included special 2-door sedan versions, available in other countries up to Ghia V6 level.
The Cortina was the British auto market best-seller up to 1981 and including it. Though it was the second best-selling car and the most popular large family car in Britain, 1982 has become its final production year. While its twin, Taunus version, has a competition with new Volkswagen Passat and Opel Ascona modern designs, the Cortina with its brand image of Ford's blue oval was guaranteed much success overseas.
The very last Cortina was produced on 22 July 1982. It was a silver Crusader that you can see even today visiting the Ford Heritage Centre in Dagenham, Essex, situated nearby the factory the car was assembled.
Still, the last Cortinas in the world were produced in New Zeland where they were top selling cars for years.
It was 1982 when the Cortina lost her Britain's best-selling car title that was given to her annually since 1972. Frankly speaking, it was selling pretty good after 1892 as well. The only difference was that another Ford's product, the Ford Escort, took the first place as the best-selling model.