Ford Cortina Mark II (Mk2)
After the first Cortina appeared in September 1962, four years later a new version, Ford Cortina Mk2 was introduced. On October 1966 a car designed in a timeless European style that differed much from its predecessor appeared to the British car market. It was equipped with a quite similar running gear but more powerful 1300cc engine balancing the 1500cc unit. In 1967 it gained a Lotus saloon. This car looked amazingly modern and strong with its rear wheel arches that magnified its features and increased boot size and space, making it the most spacious model in its class. It took the leading position with its 70.8 cubic feet capacity and 6.33 feet load floor.
Thanks to models wrap-around lamp clusters it was one of the safest cars at night. Furthermore, to provide even more safety, it was equipped with door handles, window winders, light switches, deeply dished wheels, childproof locks and a windscreen wash and wiper control.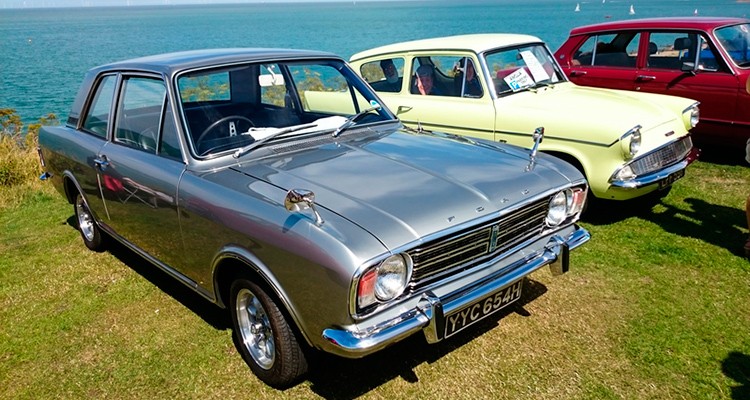 Ford Cortina Mk 2 was available with different transmissions, both fully-remote floor-mounted gear lever and a column-mounted gear lever working together with a 4-speed, all synchromesh gearbox. Ford Cortina GT/E/Lotus models with a special close-ratio gearbox were the exception. Nearly all old models of Ford were equipped with a column-shift automatic transmission, so was Ford Cortina Mark 2. Exceptions from this are 1600E, Lotus, and GT only for special order. At that moment, hydraulically-operated front disc brakes and self-adjusting rear drum brakes were on the top of popularity and widely used in the car industry. When it comes to Ford Cortina, only the Lotus with vacuum-operated servo assistance was the exception. Ford Cortina Mark 2 has the same to Mark 1 front suspensions, while the 1600E, Lotus, and early GT models are associated with rear axle location. One more common feature of MK1 and Mk2 is a bench seat with column-mounted manual or automatic gear change.